Recently I was able to visit a hidden gem on the East Coast – Chincoteague Island. My in-laws visit every year for a week in July and some of them own houses down there and visit throughout the year. After visiting, I understand the charm of Chincoteague – a place I never heard of before!
Our long weekend-away on Chincoteague Island was filled with family, laughter, experiences, mosquitos, and of course – fresh crab! We squeezed a lot in on our trip and we'll definitely be back! Hopefully, by reading this impressive list of things to do in Chincoteague, you'll be inspired to make it one of your East Coast weekend getaways! If you have any tips or things I should add for what to do in Chincoteague, please let me know and I'll add it as a reader favorite!
If you like this post, be sure to sign up for my e-mail list for travel inspiration (and get your FREE budget printable), or connect with me on Facebook, Instagram, Twitter, or Pinterest.
This post contains affiliate links. This means if you purchase something from the links, I may make a small commission at no cost to you.
Where is Chincoteague Island?
Don't feel bad if you don't know where it is – I didn't either! It's often overlooked for Virginia Beach which is two hours south of Chincoteague. Located on Virginia's Eastern Shores, Chincoteague is about three hours from Washington, D.C., and 3 and a half hours from Philadelphia. Honestly, it's that small peninsula of Virginia that looks like Maryland on a map. In fact, Assateague Island (where the horses are, but we'll get there) runs from Ocean City, Maryland down to Chincoteague. The best way to get to Chincoteague is to drive.
Best Times to Visit Chincoteague Island?
The mild weather of Chincoteague makes it a great place to visit year-round. However, many restaurants and activities may be closed in the winter season. You can visit the Refuge and do some bird watching! Spring and early fall (pre-October) are great due to the cooler temperatures, fewer mosquitos, and fewer crowds. Summer is hot but great for a beach getaway without the crowds of Ocean City or the Jersey Shore.
Top Things to do on Chincoteague Island
Chincoteague Wild Ponies (or their ACTUAL name – Assateague Horses)
If you mention to someone that you're visiting Chincoteague, they'll most likely ask if you're going to see the ponies. However – they're actual horses, not ponies. And they call Assateague Island home, not its neighbor, Chincoteague. Made famous by the children's book Misty of Chincoteague, the horses are a wonderful sight.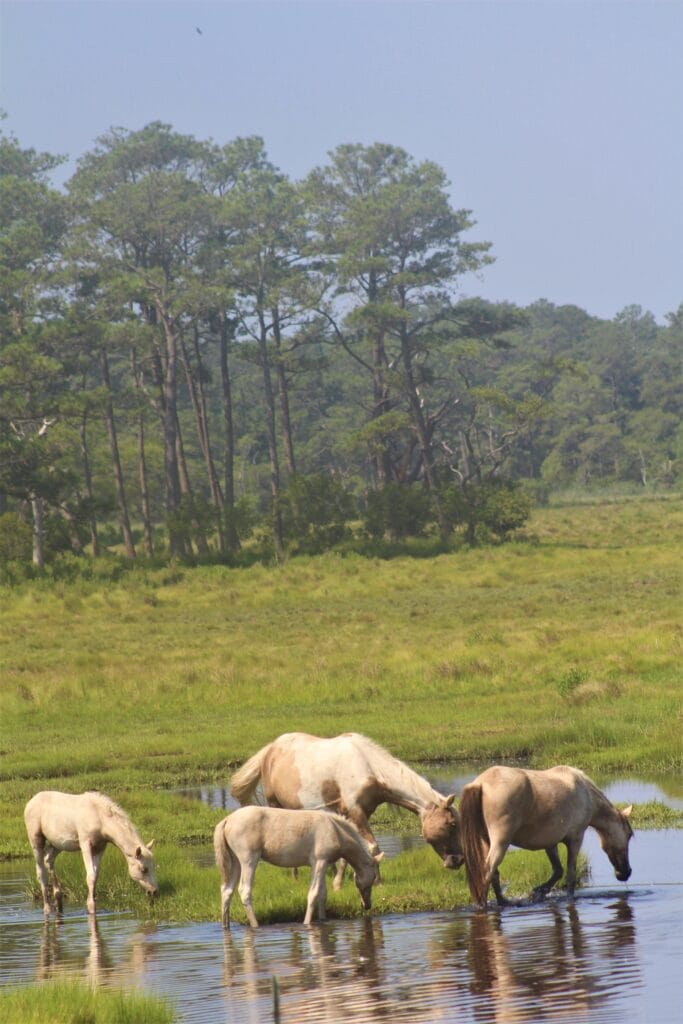 Legend has it that the horses are descendants of survivors of a Spanish galleon that sank off the coast in the 1700s (similar to the horses of the Outer Banks). Others believe they descended from stock that was released by colonists to avoid livestock laws and taxes. Either way, the horses are here and they're beautiful so enjoy them. The horses are smaller due to their diet (which isn't very nutritious and sometimes includes saltwater). Since they're a smaller herd, there used to be a decent amount of inbreeding.
The Chincoteague Fire Department (who takes care of the horses) introduced a couple of new breeds to mix up the gene pool a little bit. The Department also hosts a Pony Penning Day where the horses swim from Assateague to Chincoteague and a few of the horses are auctioned off to cover the costs of care. This also helps keep the population controllable.
Sometimes, they are near the road on the way to the beach. There is a National Park Service Fee when entering the Assateague Island National Seashore. It's $10/day, $25/week or $45/year for a vehicle pass. If you're walking or biking then entrance is free.
How to see the Assateague Horses
You may have to take a wildlife cruise or kayak tour to spot them! There are a few different options on the island. You may be able to spot the horses in one of the corrals! Make sure to follow the rules and do not approach or feed the horses.
Chincoteague Pony Swim
Since my in-laws visit Chincoteague the week before the Pony Swim, I actually haven't seen it (yet!). The Pony Swim was made famous by the book Misty of Chincoteague and has been attracting visitors from around the world since. The horses swim across the Assateague Channel during a "slack calm" tide so the young one can swim the current. This event is typically held the last full week in July – the swim is on Wednesday and the auction is on Thursday (it was cancelled in 2020). Be sure to book your accommodation early as this event gets very crowded.
Travel Tip: For the nature lovers – a visit to the Herbert Bateman Educational & Administrative Center is a must! They have a variety of exhibits, displays, wildlife-oriented programs, and a gift shop. Unfortunately, due to Covid-19, it was closed during our visit.

Chincoteague National Wildlife Refuge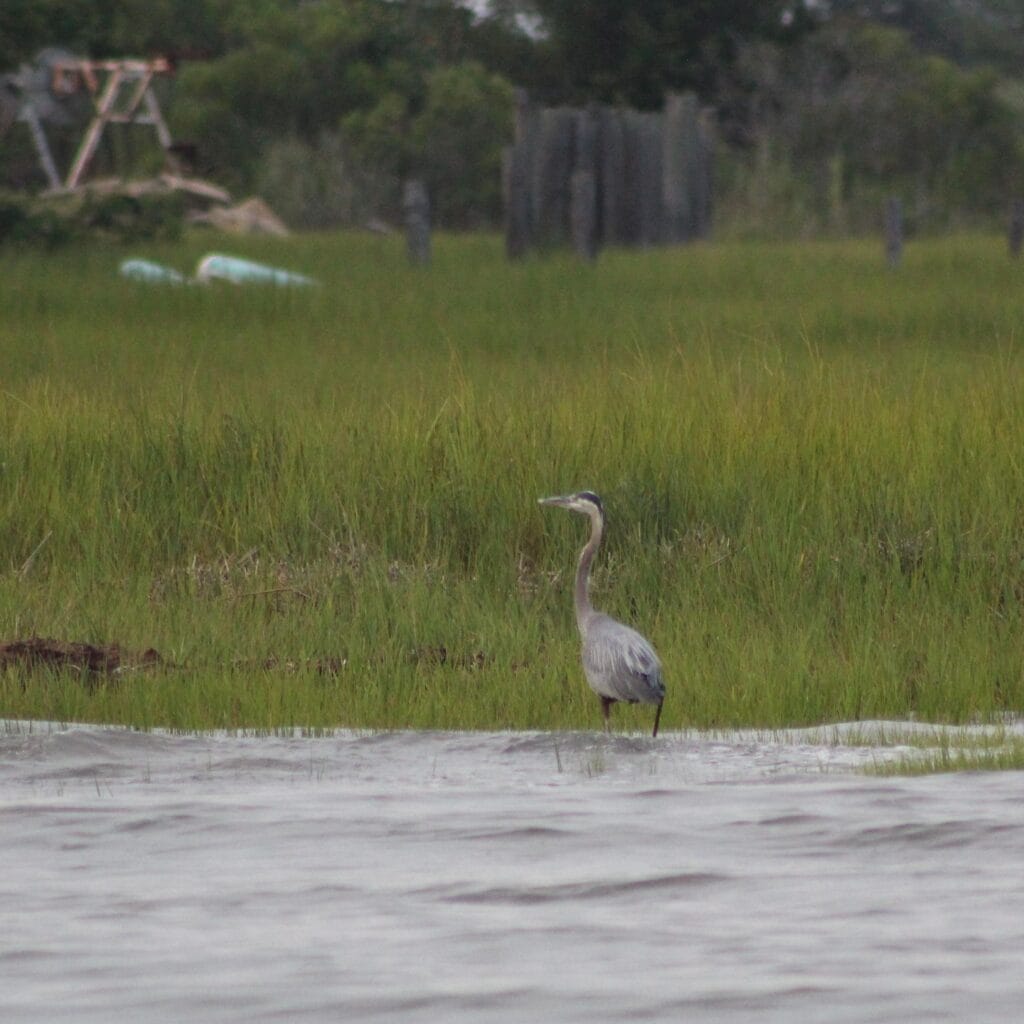 Chincoteague's other claim to fame is the National Wildlife Refuge – a haven spanning 14,000 acres including beaches, dunes, marsh, and even a maritime forest. It's easy to find something to do in nature out here. Fishing, crabbing, and clamming are very popular! You can also go hunting (with the right license), horseback riding, and bird watching!
Fun Fact: There are over 320 species of birds that frequent this area – including bald eagles- so keep an eye out whenever you're around here.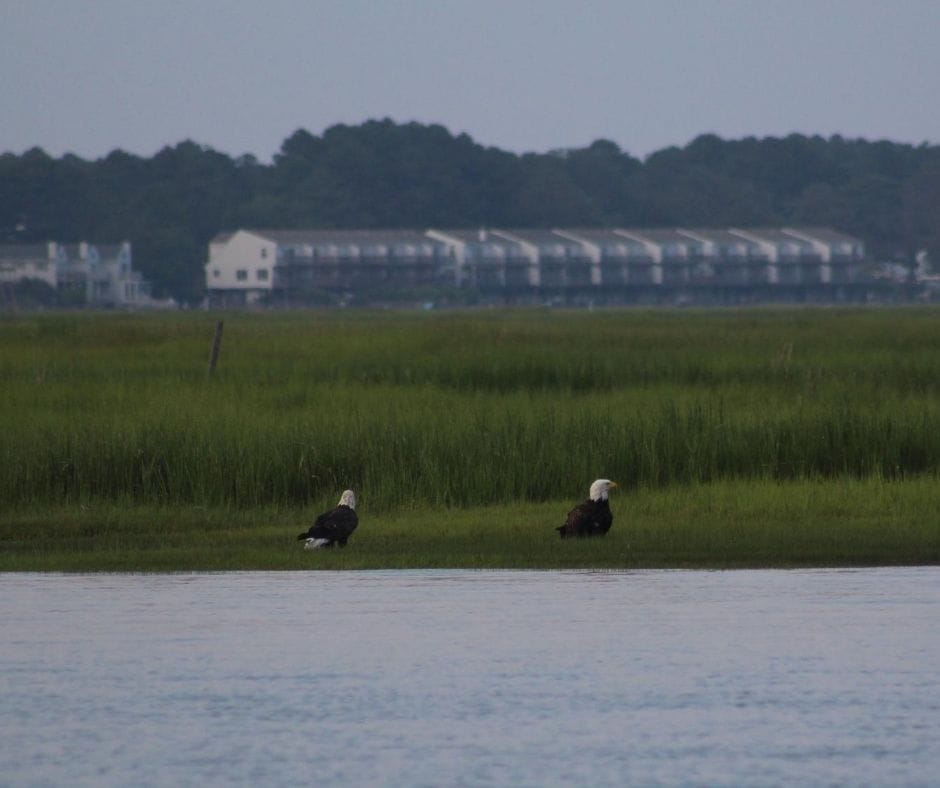 Toms Cove Visitors Center
This center is a great resource for information.They have a marine aquarium and touch tank as well as exhibits. You can also get fishing permits, on-sand vehicle pass (you need the right type of car and deflate your tires a bit), and campfire reservations. The center is open daily from 9 am to 4 pm.
Assateague Lighthouse
An icon of Chincoteague & Assateague is the red and white lighthouse. It was built in 1833 and is still in use today. The lighthouse is FREE to visit and is open from April through November 9 am-3 pm (except for a half-hour lunch break from 12-12:30 pm. I highly recommend lathering on the mosquito repellent. The walk is about 5 minutes but we were eaten alive. By eaten alive, I mean I was an all-you-can-eat buffet for all mosquitos in a five-mile radius. Not exaggerating, I had about 40 bug bites in that short walk.
Fun Fact: Each lighthouse has its own light signal. Assateague's lighthouse is two short blinks.
Assateague Island National Seashore
You didn't think I'd spend all this time talking about an island and not talk about the beach, did you? Assateague Island is a 37-mile long barrier island spanning from Maryland to Virginia and managed by the National Park Service. It's one of the best beaches for families on the East Coast – the waters are calm and there is plenty of space! Even during high tide, my nieces were able to handle the waves without being overwhelmed (something that I don't know would happen at the Jersey Shore). The seashore has plenty of offer visitors – from breathtaking views to
Travel Tip: In Maryland, you can go camping on the beach. The facilities include toilets, (cold) showers, and drinking water. You can camp from March through November for around $30.
Hiking and Biking in the Chincoteague Wildlife Refuge
One of the best things to do in Chincoteague that makes it different than other beach destinations is the Chicoteague Wildlife Refuge. There are a variety of trails throughout Assateague Island. We loved the Wildlife Loop trail. It's a 3.25-mile (about 5km) loop that is paved. We saw numerous frogs, birds, and of course bugs. You can rent bikes or bring your own as well. Both Chincoteague and Assateague are very bike-friendly. The islands are flat, bike lanes and parking are readily available, and cars are patient. (This means that if you're driving a car – be aware of bikes!) This is one of the best things to do in Chincoteague.
Chincoteague Waterfront Park
This park is a great place to catch the sunset over the island! There are giant Adirondack LOVE chairs as well – great for a photo op! You can also watch boats on the water or walk through the harbor!

NASA Wallops Flight Facility
Operated by the Goddard Space Flight Center, this facility is a rocket launch site to support science and exploration! While the Visitor Center is closed due to coronavirus, this is definitely on our list for our next visit. You can journey through past projects here. Admission is free! There are also satellite launches throughout the year, if you're interested in space plan a visit around a launch!
Explore downtown
With a downtown feel and quirky shops, exploring downtown is a great way to spend the day. Find handmade gifts and souvenirs! The Sundial bookstore is a charming place to visit as well. Flying Fish, Wine Cheese & More, Pony Tails (saltwater taffy anyone?), and Egret Moon Artworks are some of the best places to get shopping done!
The Historic Main Street Merchants in downtown Chincoteague provide unique experiences for those traveling to Chincoteague. Check their website for events such as scavenger hunts, Search for Shamrocks, markets, and more!
Travel tip: If you're visiting Chincoteague in summer, the mosquitoes are everywhere. A small hike had us covered in mosquitoes. So come prepared with powerful (and eco-friendly) bug spray.
See the Sunrise
There's something special about waking up to see the sunrise and I try to do it fairly regularly. At the beach, it's pretty easy to motivate myself on the last day (which is exactly what we did). I love seeing the sunrise over the waves. It was a bit cloudy but still beautiful. Also, the mosquitoes were again in full force and pretty vicious.
Where to eat in Chincoteague
Luckily, I have a full guide on where to eat in Chincoteague – be sure to check it out for the top places to get breakfast, lunch, dinner, AND ice cream! The seafood in Chincoteague is phenomenal – from crabs and lobster – to the freshest oysters on the East Coast – treat yourself and enjoy it in all its forms!
For quick bites, head to Pico's Taqueria. Pico's tacos are elegant and delicious. Two tacos will fill you up – but leave room for dessert. The homemade cinnamon nachos with homemade chocolate sauce and strawberries are a wonderful treat on a summer day!
For pizza, the crabby pizza at Famous is delicious. (Can you tell I love crab?) We split a crabby pizza and crabby cheese fries! We were definitely a bit bloated – it is a lot of food – but neither of us regretted it! (did I mention the seafood is awesome in Chincoteague?)
For breakfast, head to Sandy Pony Donuts. The food truck donuts are nice to look at sure, but melt in your mouth with your first bite!
Are you even on vacation if you don't get ice cream? There are two main places to get ice cream on Chincoteague Island. Mr. Whippy's, the place to go for soft serve, and Island Creamery, if you prefer hard ice cream.

Where to stay in Chincoteague
There are a lot of house rentals on the island and going through a realty company, VRBO, or AirBnB will give you plenty of options. If you're staying for more than a long weekend, these houses are probably more budget-conscious options. We did a mixture of both a hotel and renting a house with family.
We stayed at the Best Western Chincoteague Hotel. The location is right near the bridge to get to Assateague Island (and across the street from McDonald's and Refuge Bike where you can rent a bike). Their COVID policies made us feel comfortable throughout the hotel which is very important to me. Included in our stay were breakfast, wifi, and a pool! We had to wear our masks and gloves that were provided by the hotel. We were able to bring our breakfast to our room to keep our distance. The pool was refreshing and the plants outside made it feel like it wasn't right on the main road.
For a Bay View hotel, check out Comfort Suites Hotel. You can stay on main street at the Marina Bay Hotel for views of boats coming and going! If you prefer to stay in a home instead of a hotel, then check out this townhome with potential pony views right from the deck!
Final Thoughts
Chincoteague is a great destination but it's often forgotten about among the "popular" beach spots. In all honesty, I don't want it to be popular. I like the non-commercialized aspects of the town – the fact that you can bike ride on the main road and feel safe is something you wouldn't get at the Jersey Shore. The beach is long, meaning you're not fighting for space like Ocean City or Virginia Beach. This is what makes Chincoteague special, and let's keep it that way! If you have something to add that you think is a great thing to do in Chincoteague, let me know in the comments section!
Pin "Best Things to do in Chincoteague" for Later