It's always been a dream of mine to stay in an over-the-sea bungalow. You know the ones in the movies with the crystal clear water? They always seemed so far away – in the Maldives – or incredibly expensive – Bora Bora. It was always a distant-lottery-winning-bucket-list item in my mind. Until I read about the San Blas Islands in Panama. This hidden gem in Panama is breathtakingly beautiful for a quarter of the price! When I was trying to figure out how to get there, much of the information was confusing. So I pulled together all my research for you on this Ultimate Guide for visiting the San Blas Islands in Panama.
I've learned that there are actually a few places in the Caribbean that have overwater bungalows in the Caribbean. Definitely going to add more to my bucket list!
If you like this post, be sure to sign up for my e-mail list for travel inspiration (and get your FREE budget printable), or connect with me on Facebook, Instagram, Twitter, or Pinterest.
This post contains affiliate links – meaning I may make a small commission at no extra cost to you.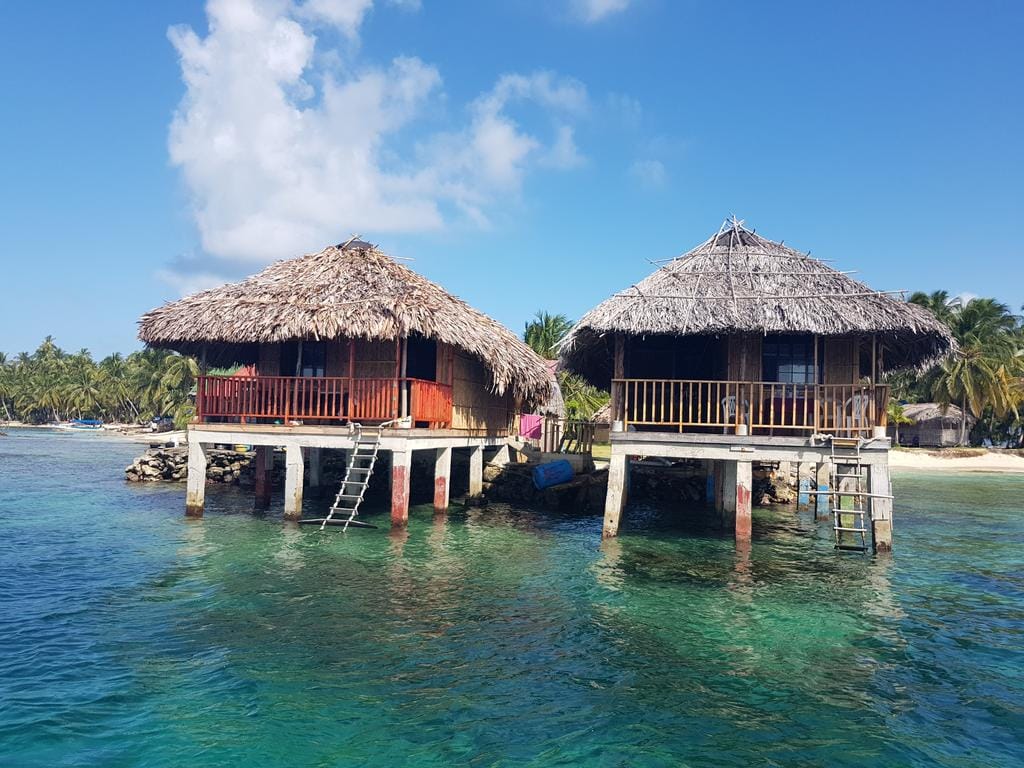 This hidden Caribbean secret is very well kept – with not much information out there. The majority of posts that I found were about how to do a day trip from Panama City. After reading how to get to San Blas Islands, I wondered why people would make it a day trip? Three and a half-hour drive, followed by a half-hour to an hour-long boat ride, to get to a beach for a few hours? To turn around and do it all again? No thanks.
We decided to spend two nights on the islands so we could really see the islands and interact with the local Kuna people. You could also stay in a private catamaran and sail around, but our accommodation included travel to other islands. We also liked supporting the local economy.
San Blas is an autonomous region in Panama. It also goes by the name Kuna Yala. This is why some people find navigating to and visiting the San Blas Islands challenging.
Fun Fact: The San Blas Islands are home to the Kuna Tribe – the last tribe of the Caribbean.
How do you get to San Blas Islands from Panama?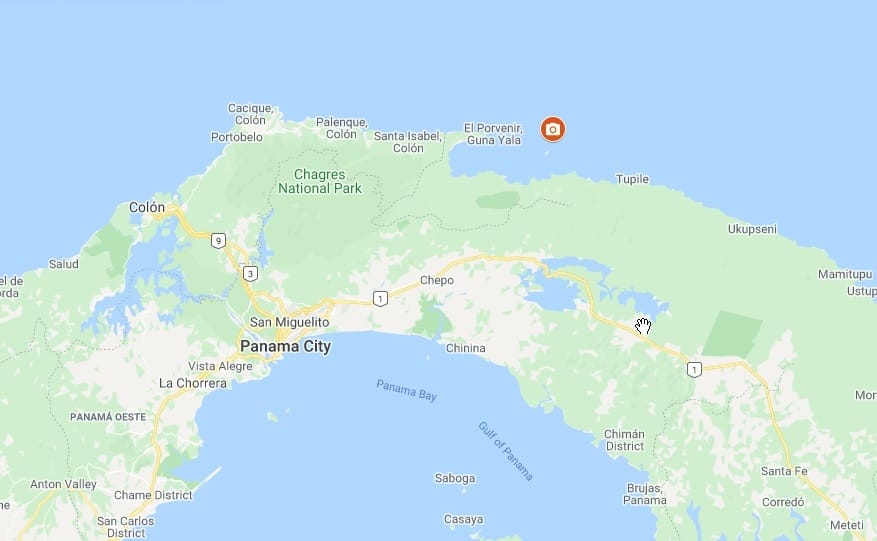 There are a couple of different ways to actually get to the islands. We decided on the most economical way – by car.
We worked with Lam Tours Panama to coordinate the transportation – and they were awesome! Our driver picked us up at 5:00 am at our hotel in Panama City. We picked up another family in the city before heading off on our drive. About an hour in we stopped for a quick local breakfast and caffeine. Then two hours later we were at the port for our water taxi (more on this soon). The cost of driving was $60 for transport, a $20 entrance fee to the Kuna region, and $2 port tax for the boat.
You can read more about our time in Panama City before heading to the San Blas Islands. Also, if you don't have time to make it all the way to the San Blas Islands, read about Taboga Island here, it's the closest beach to Panama City!
You can also fly to the islands. The Kuna Yala region has a number of small airports that fly to Panama City through Air Panama. Flights typically cost around $100. Since there are six airports, your accommodation can help you figure out which airport would be the best to fly into/out of based on where you're staying.
Travel tip: if you're prone to motion sickness, take an anti-nausea before the drive. While the roads are paved, once you get close, there are a lot of hills and windy roads. You do not want to spend your first day on the islands being nauseous.
You can also fly to the San Blas Islands. The Kuna Yala region has a few airports that go to Panama City through Air Panama. If your budget allows, you can also charter a plane for around $3,000. These planes typically have eight seats and fly out of the smaller airstrips for private planes.
How long should you stay in San Blas?
There are a lot of people who only go for a day trip to San Blas. These are relatively inexpensive and make getting to and from the islands very easy. You can also easily do this through your Panama City hotel, you wouldn't have time to explore the smaller, more remote islands. I feel like it would be more of a tease – however, if you're pressed for time, a little bit of time is better than none at all!
I recommend spending at least two nights in San Blas. This would give you one full day on the islands without the drive. We stayed at Cabañas Narasgandup (Naranjo Chico) and I can't recommend it enough. The staff was friendly, the food was delicious, and the views were amazing!
Where to stay in San Blas Islands, Panama?
Remember those movies I mentioned – the over-the-sea bungalows? I didn't realize until about a week before our trip that they wouldn't have air conditioning. Some of the huts didn't have regular electricity – you had to ask for it to be turned on for a few hours. Our hut did have electricity, but limited lighting. It really made you aware of how much unnecessary light we use in America. We packed two portable fans which we needed in the bungalow. Due to our comfort levels, I am not sure if we would have lasted more than two or three nights. Make a note of this if you plan to stay in the huts. We also brought portable chargers and a solar battery to help with the electricity.
While I would consider this "roughing it" – it was definitely worth it. You won't find any big fancy resorts on San Blas – which is a breath of fresh air from the Caribbean. It was definitely a very unique place – walking around the island was different than anywhere else we had been. There aren't cruise ships or massive crowds, just about 12 tourists that stay on the island and the local people making a living. It was the peaceful and quiet you would expect from a beach vacation!
Fun Fact: You can visit a different San Blas Island every day for a year! There are 365 islands, 49 of which are inhabited.
There were two boating excursions a day to various islands. The excursions ranged in price from $2-5 depending on how far away the island was. You could also rent snorkel gear to use for about $3. The islands ranged in size and offerings – one featured dozens of large starfish in the water, another introduced us to local people and souvenirs (bring more cash for this), and another was your typical perfect-beach-away island. We were always able to get away from the "crowds" on each island.
Travel Tip: Do not lift a starfish out of the water or take it off of a rock. This can kill the starfish. Gently touching or holding a floating starfish is fine.
What to pack for the San Blas Islands
Pack lightly! I know I say this a lot, but it's especially true for San Blas. If you're doing a day trip, you can typically leave the large luggage at the hotel and bring a day bag. If you're spending a few days on the island, your Panama City hotel typically will store your large luggage and you can pack an overnight bag.

Sunscreen is essential. San Blas is in the Caribbean, meaning it is HOT. Even in the rainy season, there is plenty of sunshine. Lather up! I recommend this sunscreen that is also safe for ocean life!
Your passport. Yes, technically San Blas is part of Panama, but it is its own autonomous region. To get into the Kuna region, you need to bring your passport (yes a new stamp!).
Beach gear. Bathing suits, towels, hats, flip flops, and of course sundresses! Live in comfort for a few days!
A GoPro or underwater camera. If you don't have one, that's fine, there's plenty of views above the water, but you'll miss out on photos of the fish, starfish, and lobsters! If you don't want to invest in an underwater camera, then be sure to bring a waterproof phone case. We use this one.
A towel. Our accommodation did provide a towel for showers. However, I suggest bringing a quick-dry travel towel to bring – sand in your shower towel is the worst.
Eating in the San Blas Islands
Food is included in accommodation on the islands since there aren't restaurants. There were bars with some bar snacks (chips, peanuts, etc) for purchase. The meals of the day were whatever the locals were able to catch- fish or lobster. Or, if there wasn't any luck then we had chicken. If you have dietary restrictions, let your accommodation know early and they'll accommodate.
On one island we visited, we saw the fisherman go out with their gear. They said the island was good for lobsters (which we did see a few while snorkeling). About 45 minutes later, they showed us the boat which had 15 live lobsters on it. They took them alive so they'd be fresh. Dinner that night was the best dinner I've ever had. Fresh lobster on the balcony of my over-the-sea bungalow!
Save the San Blas Islands for the end of the trip
We did a few days in Panama City before traveling to San Blas and I'm glad we did it in that order. It would be very difficult to go from the beautiful scenery of the islands to the skyscrapers of the city.

Is Visiting San Blas Islands worth it?
Whenever I talk to someone about the beauty of the San Blas Islands, and the few hour drive it took to get there, they seem skeptical. I mean any Caribbean beach has palm trees and clear waters. San Blas honestly feels like an island paradise. There aren't any big hotel chains and crowded beaches to fight over space. I can't think of anywhere else in the world that is quite like San Blas.
Pin "How to Visit the San Blas Islands, Panama" for later!
Would you visit the San Blas Islands? Let me know if you have any questions.