Find the best things to do in Manarola, Italy. From what to see to where to eat, this guide has you covered.
Manarola's old town has been beautifully preserved by UNESCO as part of their World Heritage Site list. The narrow cobbled lanes and alleys that wind through this picturesque setting have retained much of their original charm, making them one of our favorite stops on our road trip through Italy. In fact, Manarola is one of the best small towns in Italy – known for its colorful houses and charming personality (and delicious, locally-made wine!)
There are plenty of things to do in Manarola, including some beautiful churches, ancient houses, and even a castle!  
This post contains affiliate links. This means if you purchase something from a link, I may make a small commission at no cost to you. This helps me keep the site running and free.
How to get to Manarola
The easiest way to get to Manarola is by car. No cars are allowed in town, there are parking lots available right outside town. It's about a fifteen-minute walk to the water, which is on the other side of town. It's a bit of an incline, so wear flat shoes.
You can also get to Manarola via train from Milan, Florence, or Pisa. You take the train to La Spezia station. From La Spezia take the local train, CInque Terre Express, to Manarola.
You can also coordinate a day trip from Florence or Milan!
Best Things to do in Manarola, Italy
Hang out at the Marina
You can enter and pitch up at the marina, but you need to bring your own stuff, such as towels, sarongs, drinks, and snacks. Once you're in the center of Manarola, go left from the train station tunnel walkway, up the stairs, and across a little square to the end of Via Birolli.
If you're visiting in the warmer months, this marina is pretty busy from morning til dusk. The stone jetties are great for sunbathing and jumping in the water (and a lot less messy than sand!). Just be careful of boat activity in Zones B, C, and D.
Wander through Old Town
Old Town, or "Upper Manarola" is home to some great hidden gems. Be sure to check out Chiesa di San Lorenzo. It's a small medieval church made of stones with a yellow clock tower opposite it. The small piazza nearby overlooks the village. The church dates back to 1338 and is built in the Ligurian Gothic style. Another small church that's worth a visit is the Sanctuary of Our Lady of Health. It dates back to the 12th century and has a gabled facade.
Stroll down Via Renato Birolli and Via Antonio Discovo
Most of the restaurants, shops, and cafes are on these two streets. Take your time walking through the streets and enjoying everything from handmade pasta to hand-crafted souvenirs, this is the place to be in Manarola.  It's also where my favorite restaurant – Aristide – is located!
Visit a vineyard
Manarola is lined with vineyards all around the town and its home to the Cinque Terre wine cooperative – so definitely be sure to try some wine here! Even if you have visited wineries around the world, visiting one here is still one of the best things to do in Manarola. Winemaking is considered heroic in this area because of the difficult terrain. Everything from maintaining the vineyard to harvesting the grapes is done by hand – definitely worth a visit.
Take a Hike
There are a few hiking trails throughout all of Cinque Terre, most of which go through Manarola. You can see a LOT of vineyards on The Vineyard Walk to Corniglia. The hike is about 5.5 km (a little over 3 miles) and can take about two and a half hours. You'll see countless vineyards and have plenty of breathtaking views. If you have bad knees, it's probably not a good idea to do this hike because of steep inclines and declines. 
Luckily, there is a smaller and shorter hike that crosses right through the vineyards of Manarola! Both hikes start at San Lorenzo church. For the longer hike, continue along Trail 6p and go right. For the shorter hike, keep walking straight with Manarola on your left (you're heading toward the cemetery if you get lost).
Bonus Hike: The Blue Trail. Cinque Terre's most famous coastal trail earned its reputation for its incredible views. Its actual name is the Sentiero Azzuro. It usually connects all five of the villages, but because of landslides and erosion, sometimes it's closed for safety reasons. 
You can find plenty of hikes in Cinque Terre here.
Fun Fact: Manarola used to be subject to pirate raids. You can see the only visible vestige among the colorful houses if you look closely!
Try the wines
Now that you've enjoyed the vineyards, it's time to enjoy the wine! There are two main types of local wine (both white wines)- the Sciacchetra DOC and the Cinque Terre DOC. The Sciacchetra DOC is a sweet dessert wine and is a great way to end dinner in town! The Cinque Terre DOC is a dry white wine. Either way, treating yourself is a good idea in Manarola! You can go to A pie de Campu or Cantine Burasca for wine tastings – both with outdoor seating!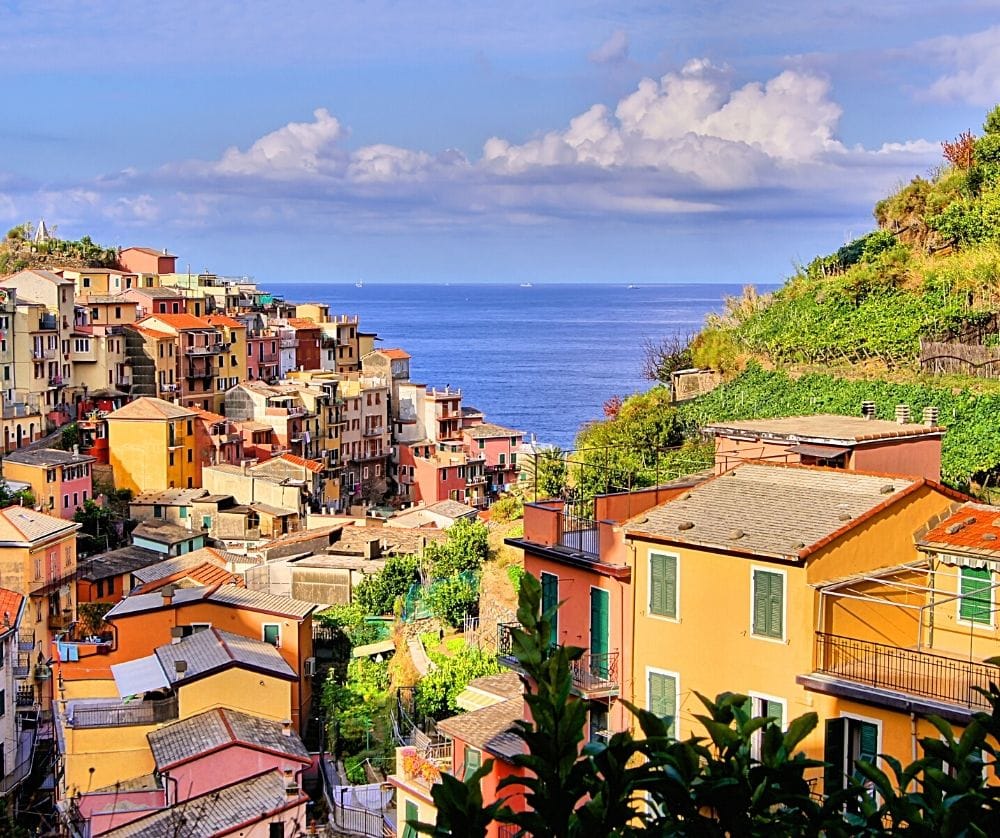 Get out on the water
What good is visiting a coastal town if you don't get to enjoy the water? It's a great way to break free from the crowds and rest your feet from walking around. There are plenty of options available – from kayaking on your own, to renting a boat for a few hours (or an entire day!). You can take a boat tour or a sunset cruise – the options are endless. For a unique experience in Manarola, you can hire a gommone (wooden boat) in the harbor with a skipper.
Travel Tip: Talk with your accommodation for a gommone rental. They probably have a recommendation for a skipper and can help make a reservation.
Enjoy an epic sunset at Nessun Dorma, a scenic bar overlooking Manarola, that has fresh, local wine and food. You can find pesto pasta at pretty much any restaurant in Manarola, but for the best seafood, make a stop at Il Porticciolo. This is also the restaurant to go to for that iconic Manarola sunset photo, so be sure to call way in advance for reservations.
If you don't want to eat, but still want the view, there is a viewpoint just below the restaurant that is open to the public. It's best to get there at least an hour before sunset to get a proper viewpoint (this is in no way a hidden gem!). Please be patient with other visitors here as everyone is trying to get a good photo.
Relish in a locally-sourced dinner
There's something about relaxing at the end of the day with local food and local wine. Il Porticciolo features the usual delicious pasta, but the squid ink seafood spaghetti is the menu highlight. Jet black pasta with a mixture of seafood is tantalizing to the taste buds. We absolutely loved Aristide (which has a second location for breakfast, but we'll get there). We called in the morning for reservations, but they weren't necessary. 
Indulge in Gelato
Okay, so I'll make any excuse for gelato, feel free to blame me for your cravings. There are a few great places in Manarola for gelato – remember not to go for the places with HUGE piles of gelato – that's for show, not taste.  Right on Via Renato Birolli, there is Sorbetteria Gelateria 5 Terre and Bar Enrica – both with awesome flavors. Gelateria 5 Terre has some great vegan gelato. 
Travel Tip: If you're staying overnight in Manarola, Aristide's breakfast was incredible! It was a delicious way to continue on our road trip through Italy.
So there you have it – awesome things to do in Manarola. If you've visited and I missed something (or you have a different favorite restaurant) – let me know and I'll add it as a reader favorite!
Pin "Best Things to do in Manarola, Italy" for Later