Whenever someone asks me about places to see in Ireland, I always mention the adorable city of Galway. Of all the countries and all the cities, my heart always longs for Galway. Sure, Dublin is a must-visit as well, but the vibe of Galway is different. I suggest spending at least two days in Galway so you have plenty of time to explore.
I've never had the desire to live somewhere I've visited – until I walked the streets here. This coastal town is a charming mixture of historical landmarks and modern atmosphere. Wandering down cobblestone streets with background music coming from every corner, it's easy to lose your heart to Galway. While many people only spend a day here, I do recommend two full days in Galway.
If you like this post, be sure to sign up for my e-mail list for travel inspiration (and get your FREE budget printable), or connect with me on Facebook, Instagram, Twitter, or Pinterest.
This post contains affiliate links, meaning if you purchase something, I may make a small commission, at no cost to you.
How to Get to Galway
Galway is across the country from Dublin – but that only means it's 3 hours away! If you're visiting from Shannon, Galway is only an hour away. I recommend renting a car and driving in Ireland.
If you're not comfortable driving, there are plenty of options via public transportation.
Bue Eireann services run from both Dublin and Shannon airports and only take a little longer than driving yourself. If you prefer the train, there is one that leaves Heuston Station in Dublin that will get you to Galway in 2 hours!
Two Days in Galway: Day 1 – Exploring the City
Latin Quarter (including Quay Street)
This street is probably the most well-known street in Galway – and for good reason! With colorful shops, flags waving from every rooftop, and streamers crisscrossing the streets – it's easy to be captivated. This pedestrian area is lined with shops and cafes so enjoy being serenaded by the street musicians while you window shop (or actually shopping!) One of the things I found impressive about the city is that musicians do not play over each other. Either – they are separate enough so they're not competing, or they wait until the other is done their song before beginning. You could easily spend one of your two days in Galway just in the Latin Quarter
Travel Tip: Always carry a few small bills or coins for tipping street performers – this is their job. If you're entertained or impressed, be sure to leave something!
Wander Quay Street (aka Shop Street)
You guessed it – Quay street is THE place to shop in Galway. Be careful walking along the road though, the cobblestones are very uneven. You'll find everything from department stores (Brown Thomas) to delicatessens (McCambridge's) so take your time and get some souvenirs.
Charlie Byrne's Bookshop
If you're a fan of independent bookshops, then you have to at least window-shop at Charlie Byrne's bookshop. You can easily get lost in this shop though – they have THOUSANDS of books of all genres!
Claddagh Museum
A symbol of Ireland, the Claddagh has a rich history – so learn a bit about it before buying one at the Claddagh Museum. There are a few different varieties of Claddaghs and they have different meanings based on how and where you wear them. You can even see the rings being made in one of their workshops! One of my favorite souvenirs is a Claddagh ring from Galway!
Eyre Square
This square always has something happening. Locals still call it Eyre Square even though it was officially renamed "John F. Kennedy Memorial Park". The park has a Quincentennial fountain and a sculpture of a traditional fishing boat called "Galway Hooker". Depending on the time of the year, you can catch an Arts Festival, a Christmas market, or other seasonal events.
St. Nicolas of Myra Church
Down an alley off of Quay Street, you'll find this beautiful church named for Santa Claus himself! It's built with local supplies – Connemara Marble and limestone.
Travel Tip: If you're visiting on a Saturday, be sure to stop by here! There is a weekly market filled with food and goodies!
Galway Cathedral
The official name of this cathedral is "The Cathedral of Our Lady Assumed Into Heaven and St. Nicholas" but that isn't easy to remember, so people call it Galway Cathedral. While it's not the most beautiful cathedral in the world (some go as far as to call it a "monstrosity'), it is the last stone Cathedral to be built in Europe. It was finished in 1965.
Walk along the River Corrib
The river runs between the city center and the University and is worth a stroll. It's the shortest river in Europe – only 3.5 miles (6 km) long – running from the lake to the Atlantic Ocean. Don't let its size fool you though – it's pretty powerful. You can even go kayaking on the river, or take a scenic cruise!
Fun Fact: In between the city center and the university is a lot of street art – wander around and pick your favorite!
Visit the National University of Ireland, Galway
The University looks like it's straight out of a movie – with vines creeping up old buildings. It's peaceful and a nice city break!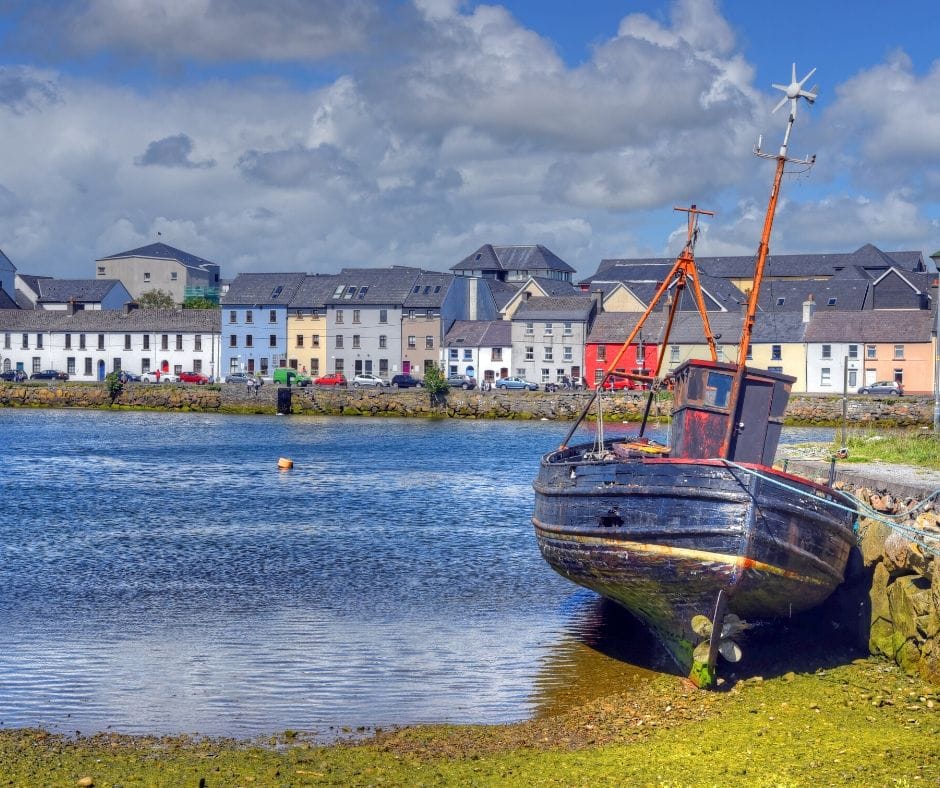 The Long Walk
I don't know exactly why it's called 'The Long Walk' as it's not THAT long, but it is an icon of Galway and worth a visit. Enjoy a walk along the stretch of houses facing the water. It's best to visit this at sunset but it's beautiful at any time of the day. You'll also see plenty of swans and other seabirds. The Spanish Arch is nearby.
Fun Fact: The famous Irish song "Galway Girl" by Steve Earle starts off with "Well, I took a stroll on the old long walk…."
The Spanish Arch
Most people don't know that Galway used to be a medieval walled city since most of its fortifications are gone. There are only two partial arches remaining in Galway. This is the Spanish Arch. The arches were built in 1584, but partially destroyed by a tsunami in 1755. (You're probably thinking – a tsunami?! In Ireland?! Yes, the weather is that crazy! – just kidding. There was an earthquake in Lisbon, Portugal that made it)
Lynch's Castle
This castle isn't your typical "looming-over-the-city" castle and if you're not looking for it, you'll miss it. This four-story high castle has gargoyles and ornamental moldings on the outside, but is currently the home of AIB bank. The Lynches were one of 14 tribes who ruled Galway. Most of the castle was built in the 16th century, but parts of the limestone date back to the 14th. If you visit during bank hours, you can read all about the history and architecture of the building.
Fun Fact: You can see where the term "lynch mob" originated. A mayor hung his son from the window after he killed a Spanish visitor. See the Lynch Memorial Window while visiting Galway.
Two Days in Galway: Day 2 – Aran Islands
The Aran Islands
While technically not IN Galway, the Aran Islands are a great 'city' break during your two days in Galway. It's an hour's drive and a 40-minute ferry crossing to the islands. Catch a mid-morning ferry (booking in advance is preferred). I recommended renting a bike to really embrace the stunning scenery. Explore the landscape and plant life, visit a seal colony, or even visit a prehistoric hill fort! I wasn't kidding when I said to spend the day here – the Aran Islands have a LOT to offer.
Where to Eat in Galway
Jungle Cafe – one of the best places for breakfast! Their scones are huge and absolutely delicious (hello fresh baked!). They also have smoked salmon and eggs!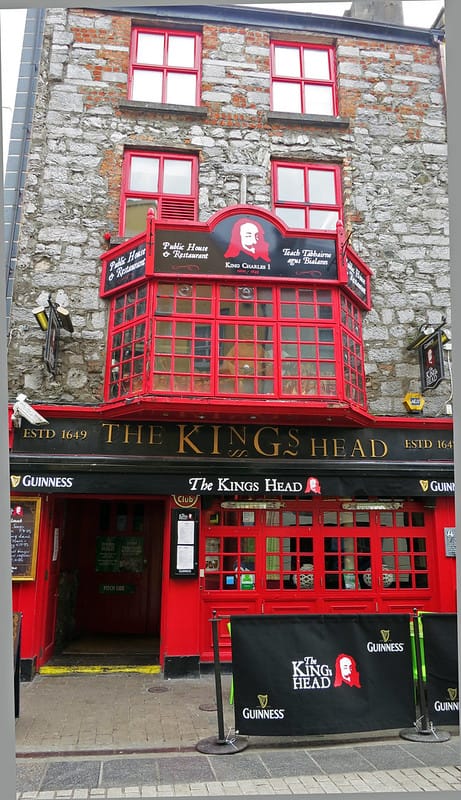 Cupan Tea – Take a break from wandering around the city for a cup of afternoon tea. You can't miss the bright purple fence! They have a large selection of loose leaf tea served up in adorable teapots
The Dough Bros – I love places with fun names, and I love pizza even more – so combine the two and you have a great place to eat! The pizza is delicious – and they even have a number of vegan options!
Ard Bia Nimmos – Located near the Spanish Arch is a small restaurant serving up local and seasonal fare. You'll recognize it by the red door that stands out from the stone wall.
McDonagh's – For a traditional fish and chips meal, visit McDonagh's on Quay Street.
The Kings Head – located right in the heart of the Latin Quarter, this pub dates back over 800 years!
Have more than 2 Days in Galway? Here are more ideas!
Pin 2 Days in Galway for later!