Lake Kawaguchiko, a small town at the base of Mt Fuji, is one of the best places in Japan to see Mt. Fuji. It's easy to get there by bus from Shinjuku Station. Of the Fuji Five Lakes, it's the largest and most developed for tourism.
You can do a day trip from Tokyo. However, since views of Mt. Fuji are weather dependent, I recommend spending at least one night in the area. There are many things to do in Lake Kawaguchiko (also called Lake Kawaguchi for short), most of which come with a view of Mt. Fuji.
This post contains affiliate links. This means if you purchase something from a link, I may make a small commission at no cost to you. This helps me keep the site running and free.
How to get to Lake Kawaguchiko
Unfortunately, there is not a bullet train that goes to the Fuji Five Lakes. The easiest way to get to Lake Kawaguchiko is by bus. A bus ride from JR Shinjuku Station to Kawaguchiko Station costs about 1750 Yen and is about a 90-minute drive. You can also do an organized day trip through a tour company so you don't have to worry about transportation.
It's one of the best places to try to get a clear view of Mt. Fuji since the lake makes such a beautiful setting. There are also plenty of things to do in the area too. You can rent a bike to tour the town, get on the water on a kayak, or go hiking for more incredible views.
Where to See Mt. Fuji in Lake Kawaguchiko
There are a lot of places to see Mt. Fuji – it looms over the town, so just keep looking in that direction! We were lucky enough to stay in an apartment that overlooked Mt. Fuji so we got to enjoy it a lot! (more about where we stayed at the end of the post). The best time of day to see Mt. Fuji is in the early morning.
For aerial views of the town (and Mt. Fuji) head to Tenjoyama Park to take the cable car up Mt. Tenjoyama. It's 800 Yen for a round-trip ticket or you can take the cable car up and hike back down. It's an easy 40-minute hike.
The Fuji Panoramic Ropeway is the main reason people come to the Lake Kawaguchi area.
Things to do in Lake Kawaguchiko
The lake is located in a valley surrounded by mountains and forests, with Mt. Fuji as its backdrop. It has been designated an Important Bird Area for over 20 years because it supports large numbers of migratory birds from all around Japan.
The Kawaguchiko Music Forest Museum
This museum is both inside and outside and is devoted to automatic musical instruments. It's a unique experience for music lovers.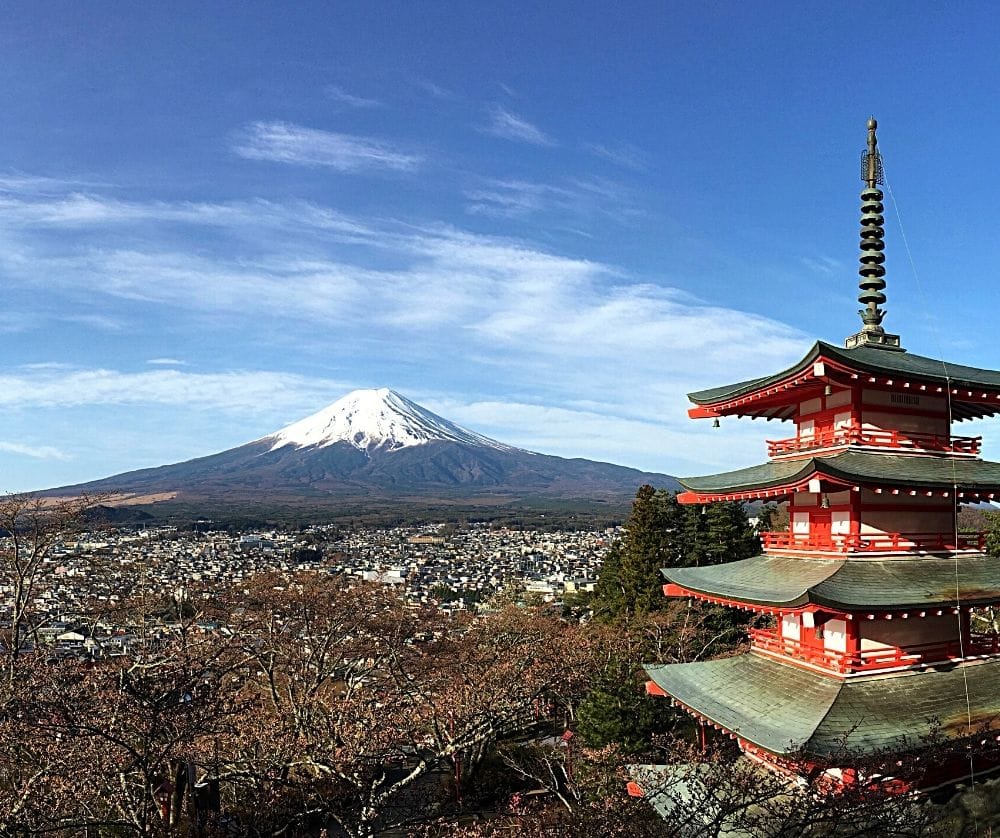 Chureito Pagoda & Arakurayama Sengen Park
A quintessential five-story pagoda rises high above the trees. In the spring, the red pagoda is surrounded by blossoming cherry trees. Even if you have a cloudy day, the views of the town and lake are beautiful. On a clear day, it has stunning views of Mount Fuji. We didn't have time to make it to the viewing location, but even just seeing the pagoda from town is beautiful.
Oshino Hakkai
A little bit outside Lake Kawaguchiko is an open-air museum (with Mt. Fuji views). You'll find scenic ponds and thatched-roof farmhouses that give a glimpse of life in the past. Take the F bus line from Kawaguchiko Station to get here.
Get lost in the Aokigahara Woods
While we didn't have enough time to explore the woods, but I've heard incredible things. The forest is dense and earned the title of "Sea of Trees". Not only is there a plethora of floral and fauna, but there are also a number of lava tube caves to explore!
Itchiku Kubota Art Museum
Art fans can visit the Itchiku Kubota Art Museum which is home to ancient ruins, primitive art, and even a tie-dyed painted silk kimono. Itchiku Kubota was a textile artist and made incredible kimonos. His mission was to recreate the 16th-century Tsujigahana dyeing technique, which took him over 20 years! The kimonos are so colorful and full of nature – you can tell he was devoted to his craft. Unfortunately, photos of the kimonos are not allowed.
Maple Corridor
Near the Itchiku Kubota Museum is a short path lined by maple trees. In the fall, it has beautiful scenery with a variety of fall colors.
Relax in an Onsen
Since Mt. Fuji is ripe with volcanic activity, there are plenty of thermal hot springs. This makes relaxing in an onsen one of the best things to do in Lake Kawaguchiko. You can find a few onsens with spectacular views of Mount Fuji.
Go Shopping at the Kawaguchiko Herb Hall
Japanese food is incredible in all aspects so get an inside glimpse at the variety of herbs and spices. You'll find local herbs, teas, and flowers – including the pristine Kawaguchiko lavender. Don't forget to get some Kawaguchiko lavender ice cream – it comes with edible flowers.
Fuji-Q Highland Amusement Park
It's hard to miss the Fuji Q Highland theme park – it stands out in the countryside. Adrenaline junkies can enjoy views of the mountain while riding rollercoasters!
Kawaguchiko Natural Living Center
Depending on the season that you're visiting, you may be able to catch some incredible blooms at the Kawaguchiko Natural Living Center. They have everything from lavender to bellflowers. In the summer you can sign up for a fruit picking experience. There's also a small cafe here with curry rice and ice cream.
Yamanashi Gem Museum
This museum is dedicated to the charm of gemstones. Learn all about the gems that we often take for granted in our jewelry. Nature makes these stunning stones deep beneath the earth. This museum is home to over 3,000 pieces from around the world. Currently, a third of jewelry products circulating in Japan are made in Yamanashi.
Take a Paddle Boat Ride on Lake Kawaguchi
I love all things water, so when I saw the duck paddle boats, I knew I had to enjoy a ride. It was such a fun way to get around the water! I loved seeing Mount Fuji from the water – she looked so majestic. It was a silly, unique experience and cost only 1000 Yen.
Ide Sake Brewery
Call ahead for a tour and tasting of this small brewery. They only have two tours a day – one at 9:30 am and one at 3 pm – so be sure to call ahead! Who doesn't love a little sake?
Where to Eat in Lake Kawaguchiko
Hōtō Fudō is known for their incredible Hōtō noodles – in fact – it's almost the only thing they have on their menu. Don't worry, if you want some simmered intestines or Japanese pickles, they have them too. Hōtō noodles are thick, wheat noodles – almost like dumplings – cooked in a flavorful miso soup that are a specialty of the area.
Izakaya High Spirits sits less than 20 people but is an experience in itself. The owner is the only staff and you can sense community as you walk into the restaurant. The fusion cuisine is served tapas-style, perfect for making conversation with other diners.
Cheesecake Garden is all about cheesecake. While I am not a fan of cheesecake, they have an impressive amount of types of cheesecake available – and you get a free cup of coffee with each slice.
Indulge in lavender ice cream with edible flowers at Kawaguchiko Herb Hall
Where to Stay in Lake Kawaguchiko
We stayed in a Fuji Scenic House 73 – an apartment style accommodation with terrace views of Mount Fuji. It was a good space, with a refrigerator and microwave. Breakfast was not included. It was in walking distance of the bus and train stations. It was easy to get around the town and was an affordable accommodation.
Kawaguchiko Hotel – right on the shore overlooking the lake, a bit pricier, but the views look awesome!
Find more places to stay on booking.com – my go-to place to find accommodation! 
Save "Best Things to do in Lake Kawaguchiko" for later!